North Greene HS Yearbook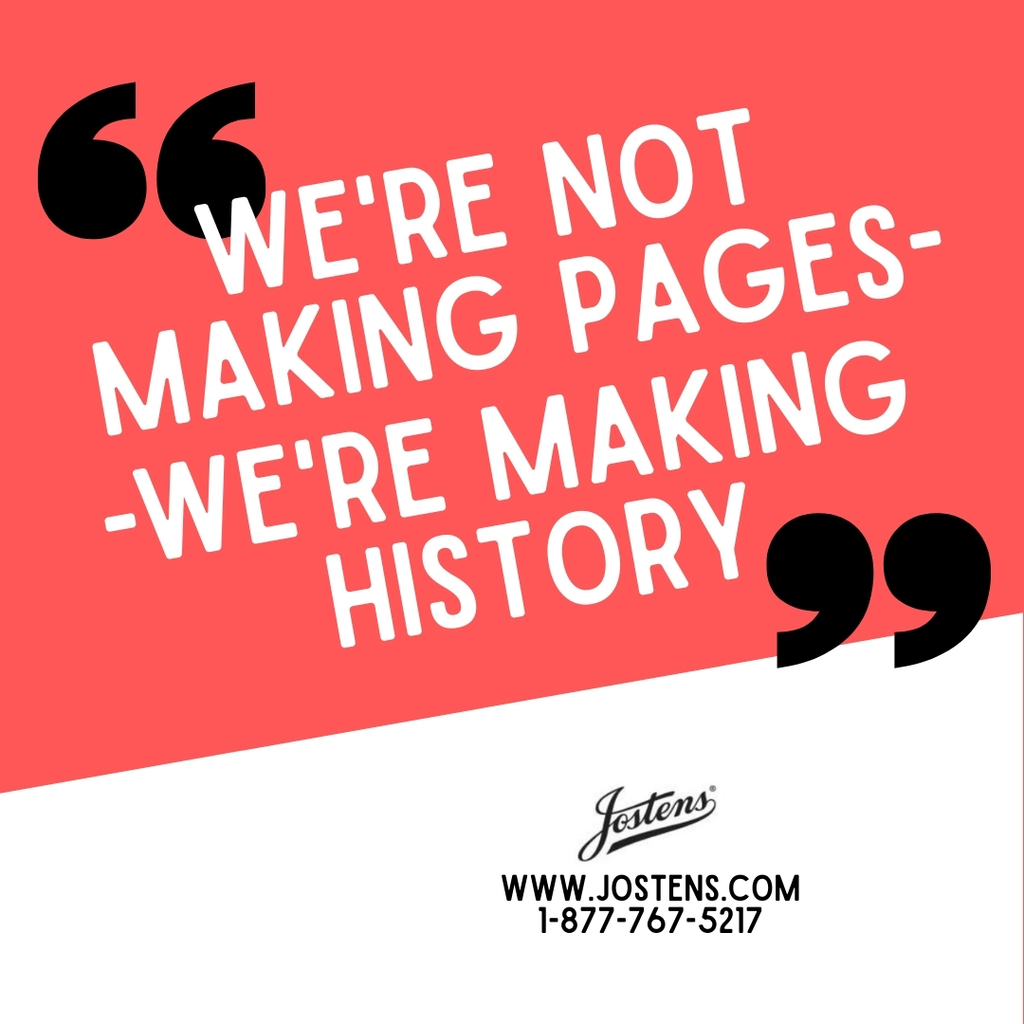 We are very proud of the composure and toughness displayed by the North Greene HS Boys Basketball team tonight. Our young men took on a more seasoned and talented opponent, and handled themselves with class and dignity despite facing tremendous adversity. They battled to the very end, and never gave up. Our gentleman brought honor and integrity to their families, their school, and their community. Thank you for demonstrating true respect for the game.

NG Game Day 1/18/22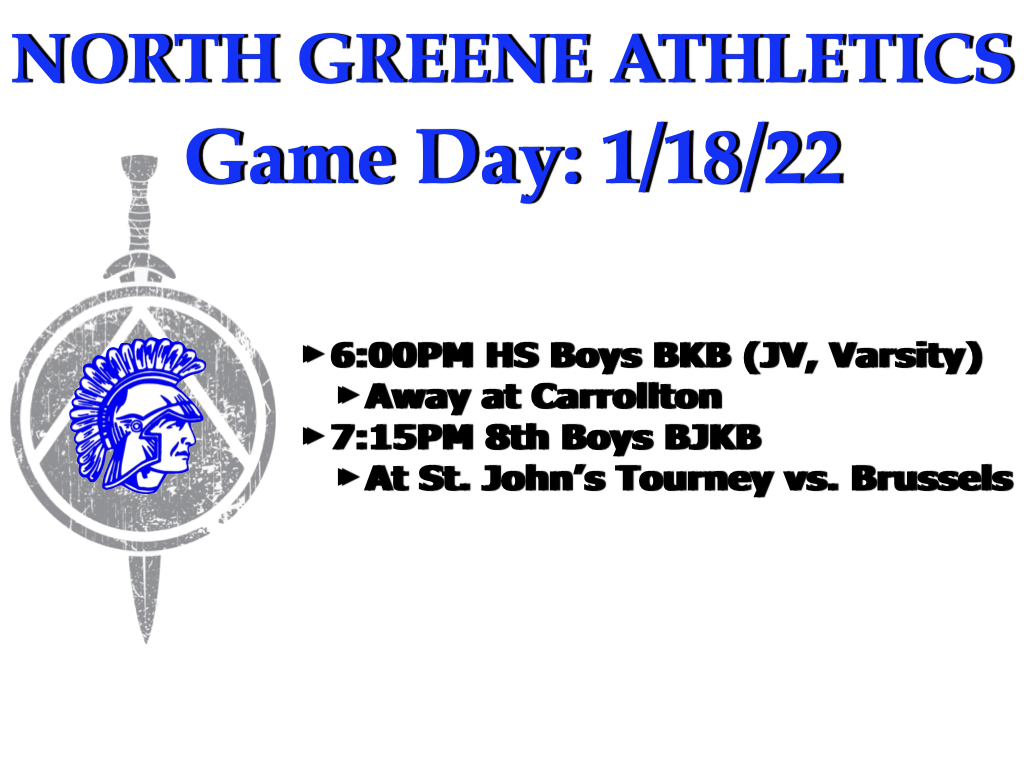 Special thanks to the wonderful people that work to make the NG Lady Spartan Classic a success: Tammy Berry, Fuzzy Clanton, Rick Bridges, Lisa Buchanan, Mike Edwards, Karen Kirchner, Pat Foiles, Ms. Macias, HS Boosters, McKea Jones, JR, DJ, Vance, Kayla, Dave, and so many others.

NG Lady Spartan Classic Top Ten Scorers:

NG Lady Spartan Classic All Tournament Team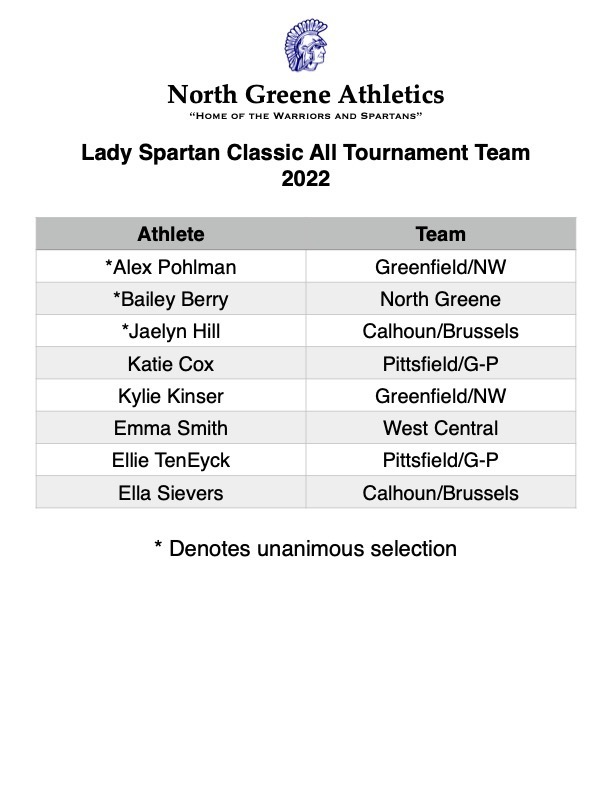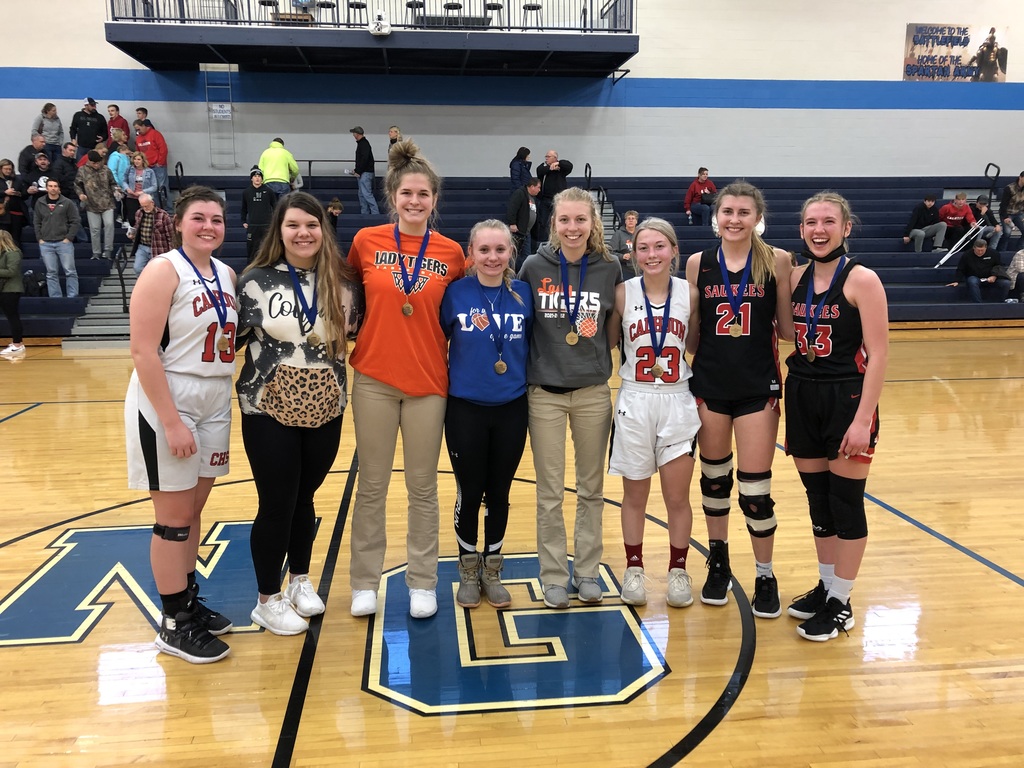 NG Lady Spartan Classic Finals: The Championship game saw Pittsfield/G-P defeat Calhoun/Brussels, 32-23 to bring home the title. Ellie Ten Eyck and Lainie Marable had 9 points a piece to lead the Saukees, while Jaelyn Hill had 10 points to anchor the Warriors.

NG Lady Spartan Classic Finals: Game 3 results find Greenfield/NW outlasting South County in a thriller, 54-50. Alex Pohlman led the Tigers with 19 points, while Eden Copelin put up 10 points for the Vipers.

NG Lady Spartan Classic Finals: Game 2 results find West Central victorious over Triopia/M-C/V, 50-48. Emma Smith post 15 points for the Cougars, while Hailey Reynolds scored 13 points for the Trojans.

NG Lady Spartan Classic: Game 1 results find North Greene defeating Pleasant Hill/Western 36-33 in the 7th Place Game. Bailey Berry with 17 points for North Greene, Skylar Bainter with 17 points for P. Hill/Western.

North Greene Lady Spartan Classic Final Match-Ups: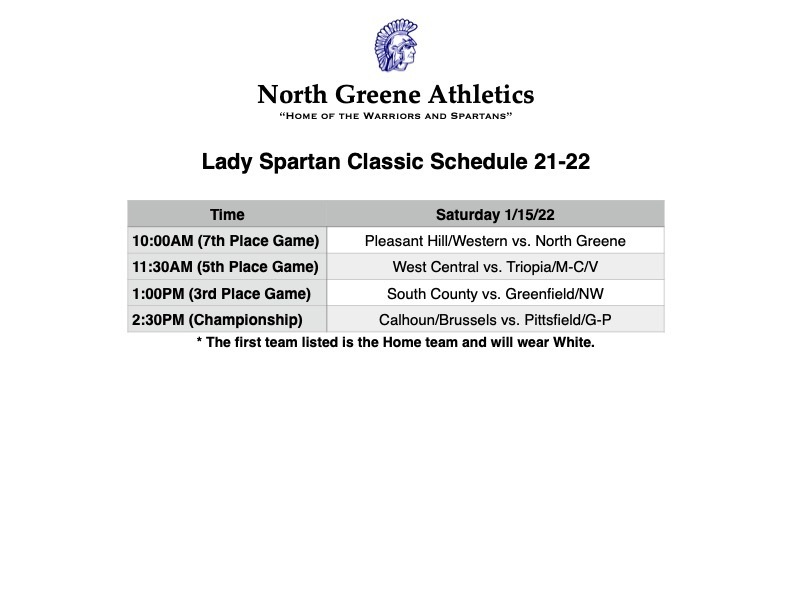 The North Greene JH VB game against Virginia for tonight has been rescheduled due to miscommunication. The NG teams will still scrimmage each other at home.

Day 2 Results from the North Greene Lady Spartan Classic: South County over West Central 53-25 Calhoun/Brussels over Pleasant Hill/Western 51-22

The NFHS Network live stream of the Lady Spartan Classic is offline at this time. We apologize for the inconvenience, and are working to address the issue.

2022 North Greene Lady Spartan Classic Schedule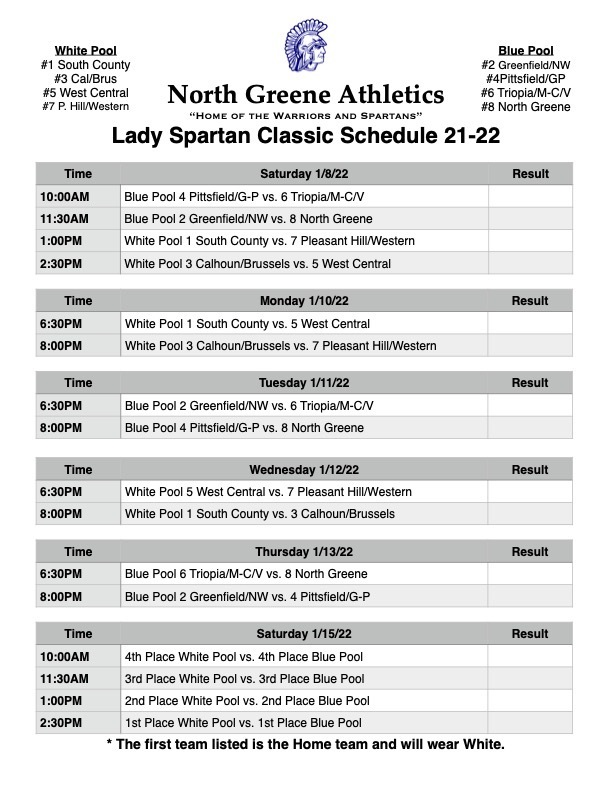 January North Greene Boys Basketball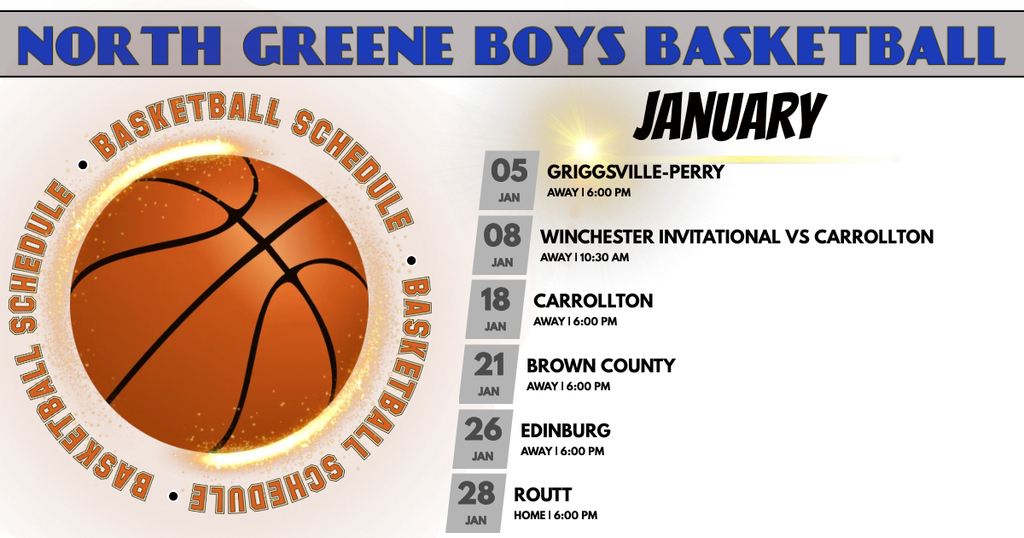 North Greene Athletics Game Day 1/5/22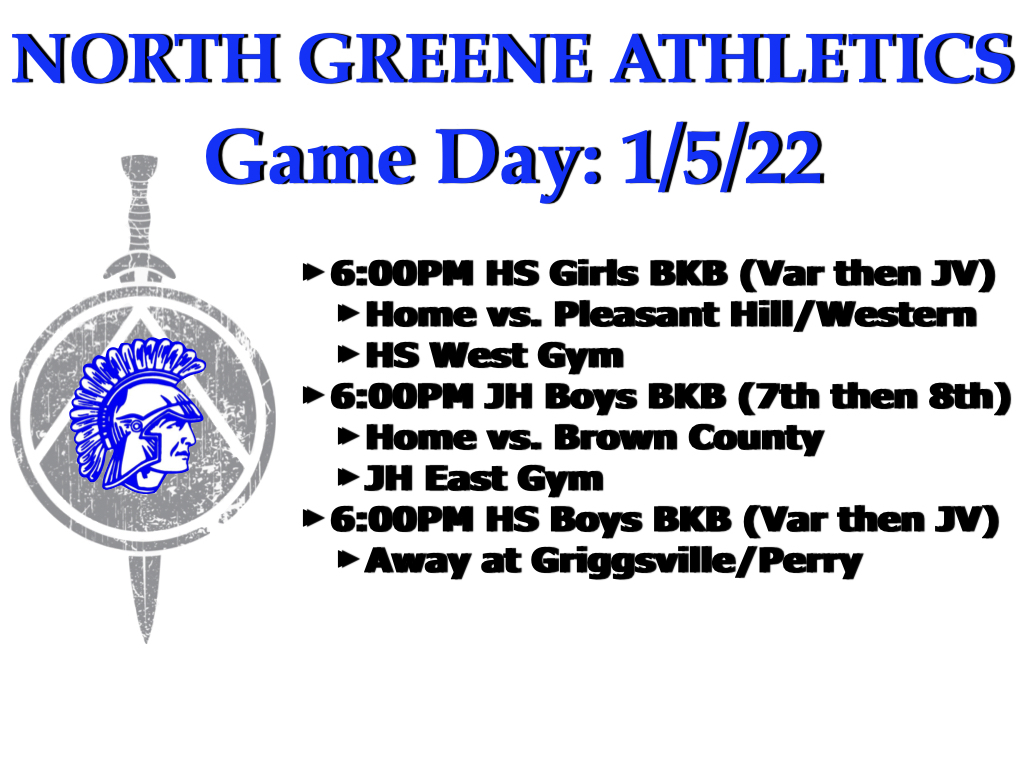 North Greene Athletics: 1/3/22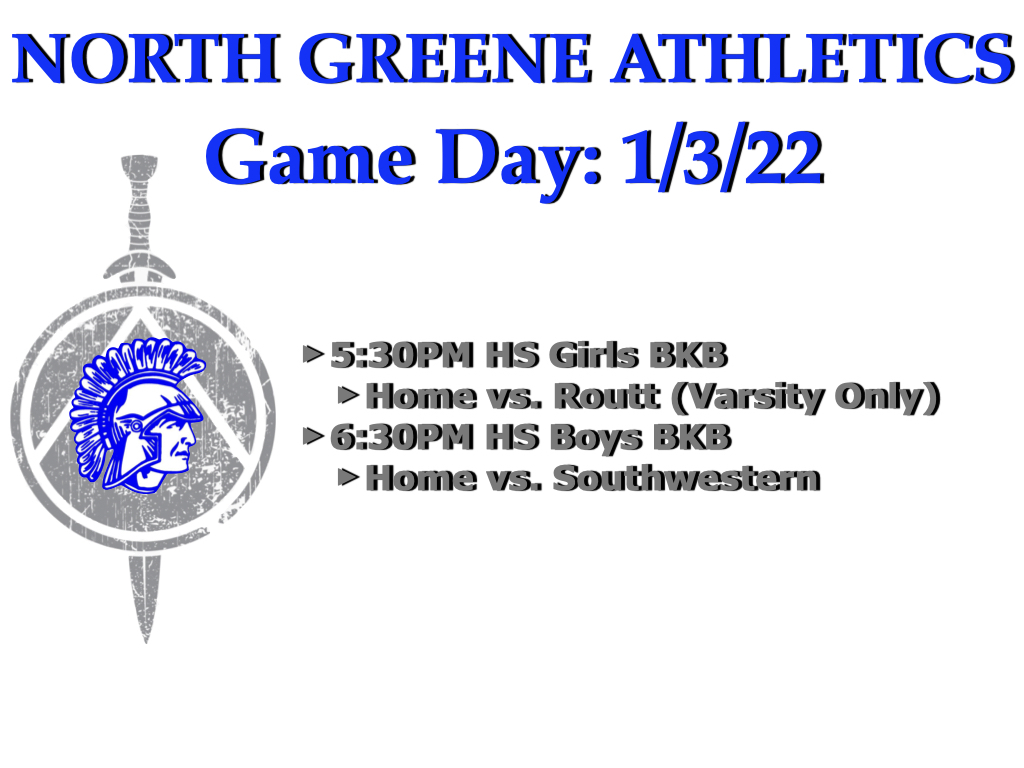 North Greene Athletics Game Day: 12/29/21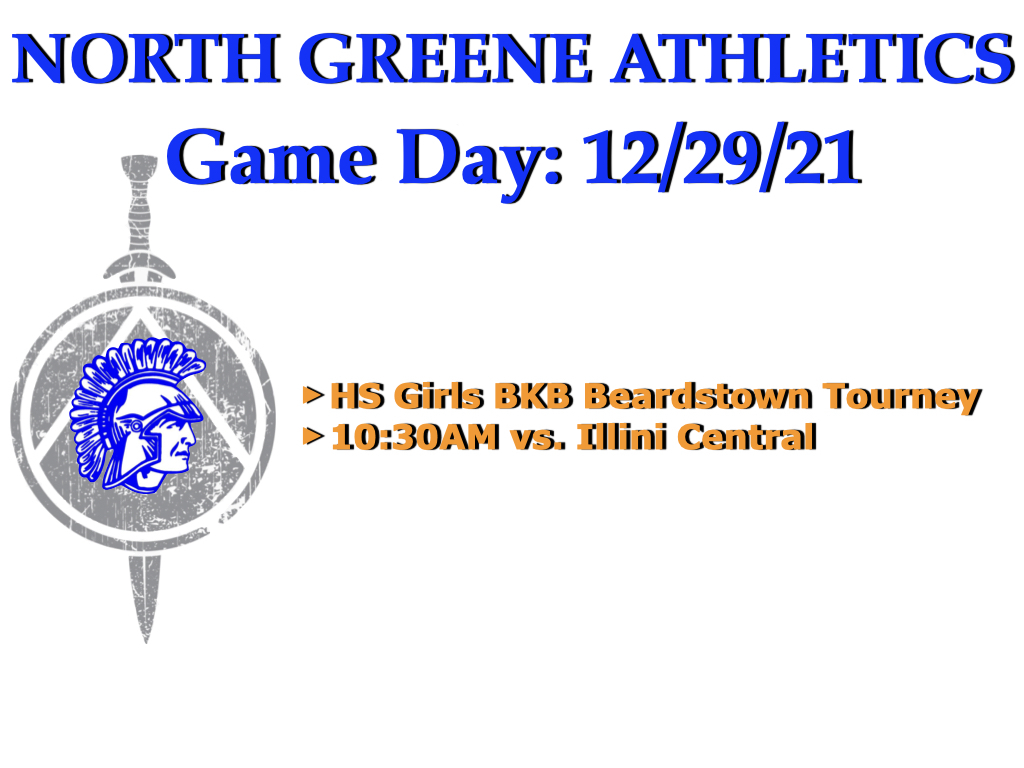 North Greene Athletics Game Day: 12/28/21